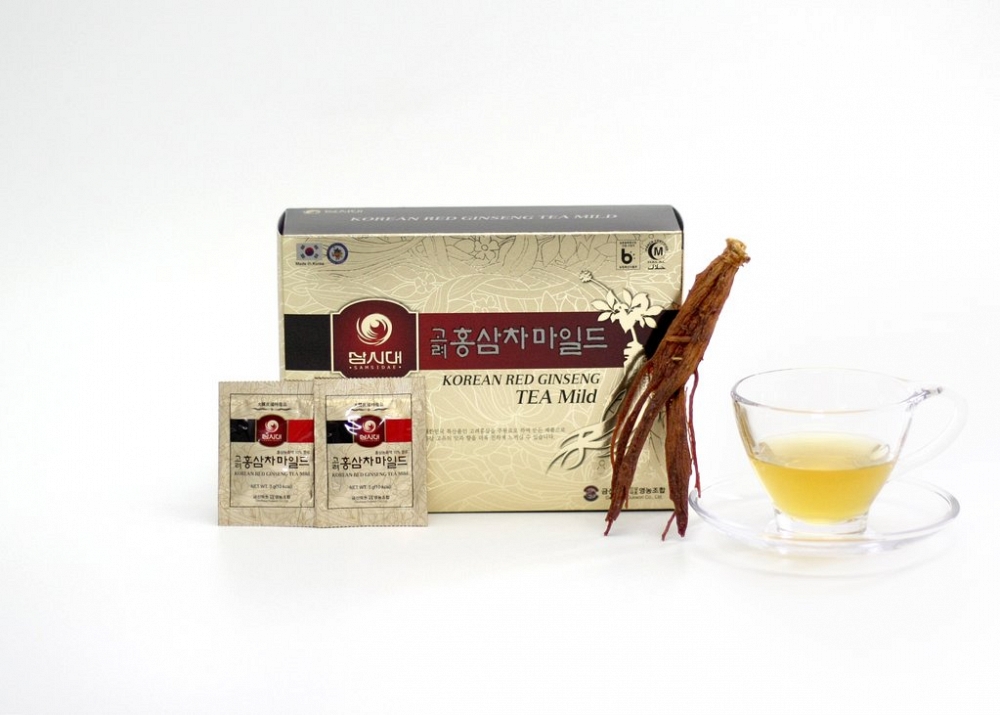 About the Product:
Korean red ginseng tea is a product of red ginseng that was made with the main material of red ginseng extracts that was extracted from Korean red ginseng, the Korean native product. The product was manufactued in granule type for the taste of morden person.
Samsidae Korean Red Ginseng Tea Mild is made of high quality red ginseng extracts as a main ingredient. This product is granule-type tea separately packaged for the convenience and tast of modern people.

Ingredients: Korean Red Ginseng chopped 100%

Traditional Form of Tea : This tea made up of Korean Red Ginseng Extract and Glucose, which provides mild ginseng flavor with little bit of sweetness

Efficacies of Korean Red Ginseng:
** Enhances the Immune System
** Mental performance Improvement
** Fatigue and Stress Relieve
** Support Blood Circulation
** Antioxidant properties
** Boost Stamina
****************
Thông tin sản phẩm:
Trà hồng sâm Hàn Quốc là sản phẩm từ hồng sâm được bào chế với nguyên liệu chính là tinh chất hồng sâm được chiết xuất từ ​​hồng sâm Hàn Quốc, sản vật bản địa của Hàn Quốc. Sản phẩm được sản xuất ở dạng hạt được đóng gói riêng biệt để tạo sự tiện lợi và ngon miệng cho người hiện đại.
Thành phần: Hồng sâm Hàn Quốc băm nhỏ 100%
✔ Dạng trà truyền thống: Loại trà này được tạo thành từ chiết xuất Hồng sâm Hàn Quốc và đường gluco, mang đến hương vị nhân sâm nhẹ nhàng với một chút ngọt ngào
Tác dụng của Hồng sâm Hàn Quốc:
** Tăng cường hệ thống miễn dịch
** Cải thiện hiệu suất tinh thần
** Giảm mệt mỏi và căng thẳng
** Hỗ trợ lưu thông máu
** Tính chất chống oxy hóa
** Tăng cường thể lực