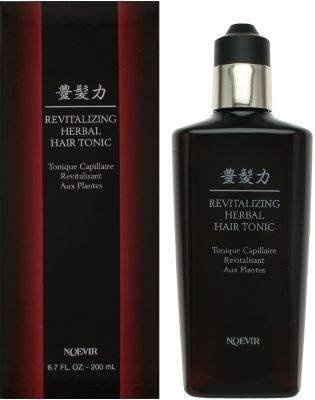 Noevir's high-quality Revitalizing Herbal Hair Tonic was developed to help condition and revitalize the scalp and encourage healthier, fuller-looking hair. Eleven herbal and botanical extracts were carefully formulated to create the optimum condition for hair revitalization.

The light, non-greasy formula, with its cool menthol fragrance, leaves the scalp refreshed, clean and hydrated.This product was developed for men and women who want to improve the appearance and condition of their hair and scalp.
Product Ingredients:

Water, humulus lupulus (hops) extract, swertia japonica extract, stephania cepharantha root extract, tocopherol, capsicum frutescens fruit extract, betula alba bark extract, coptis japonica root extract, dipotassium glycyrrhizate, hinokitiol, menthol, lysolecithin, hydrogenated castor oil, hydroxypropylcellulose, fragrance, alcohol.



Chiếc xuất từ 11 loại thảo dược và thực vật giúp cho việc phục hồi da đầu và khuyến khích mái tóc khỏe mạnh hơn, đầy đặn hơn.