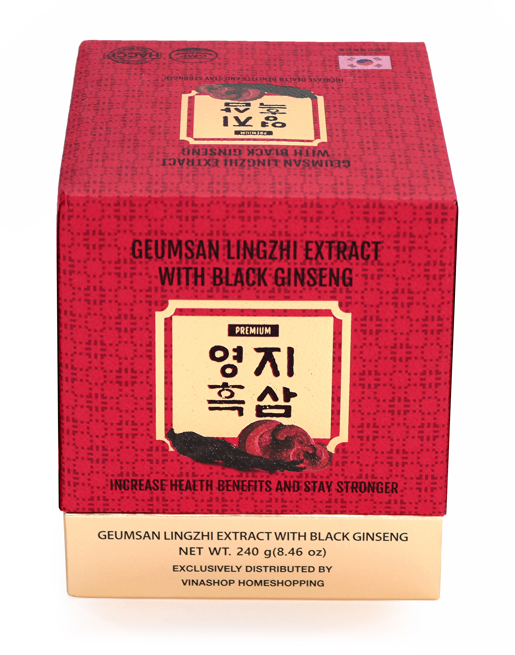 Geumsan Lingzhi Extract With Black Ginseng (240g)

Geumsan Lingzhi extract with Black Ginseng is made with a perfect combination of the nutritious Lingzhi and black ginseng extract, to provide you with a spectrum of health benefits. Experience the synergistic wonders and benefit of Lingzhi Black Ginseng extract
Ingredients:
Geumsan Lingzhi Extract 50%

Geumsan Black Ginseng Extract 3%

Olligosacharide, Malto-dextrine
Benefits:
Enhance Immune System

Promote good blood circulation

Provide antioxidant properties

Boost energy and stamina

Support memory function and relieve stress
**********
Cao linh chi và hắc sâm Geumsan (240g)

Nấm Linh chi là vị thuốc quý từ thiên nhiên đã được sử dụng từ hàng ngàn năm nay với nhiều tác dụng tuyệt vời như tăng cường hệ miễn dịch, thúc đẩy tiêu hóa, giải độc gan, chống nhiễm mỡ, tăng cường tuần hoàn máu,.... Ngoài ra, nấm Linh chi giúp loại bỏ các sắc tố đậm màu trên da, làm cho da hồng hào, chống các bệnh ngoài da như dị ứng, mụn trứng cá
Đặc biệt thành phần Polysacchanride trong nấm Linh chi giúp khôi phục tế bào tiểu đảo tuyến tụy và từ đó thúc đẩy quá trình điều tiết Insulin, góp phần làm giảm đường huyết. Chất Germanium trong nấm Linh chi giúp ngăn chặn ung thư trong cơ thể, giúp loại trừ và kìm hãm sự tăng trưởng của tế bào ung thư.
Sự kết hợp giữa chiết xuất linh chi và chiết xuất sâm đen đã cho ra đời một sản phẩm bồi bổ sức khỏe hoàn hảo Geumsan Lingzhi Extract with Black Ginseng.
Thành phần:
Công dụng:
Tăng cường hoạt động của hệ Miễn dịch

Tăng cường sinh lực, thể lực và chống suy giảm trí nhớ.

Giảm Cholesterol, chống xơ vữa động mạch, tăng cường tuần hoàn máu

Giảm mệt mỏi căng thẳng, giúp an thần. Hỗ trợ rất tốt trong việc điều trị chứng đau đầu, mất ngủ, thần kinh suy nhược, stress.

Giải độc gan, chống dị ứng, ngăn ngừa sự phát triển của tế bào ung thư.

Chống lão hóa, làm đẹp da.