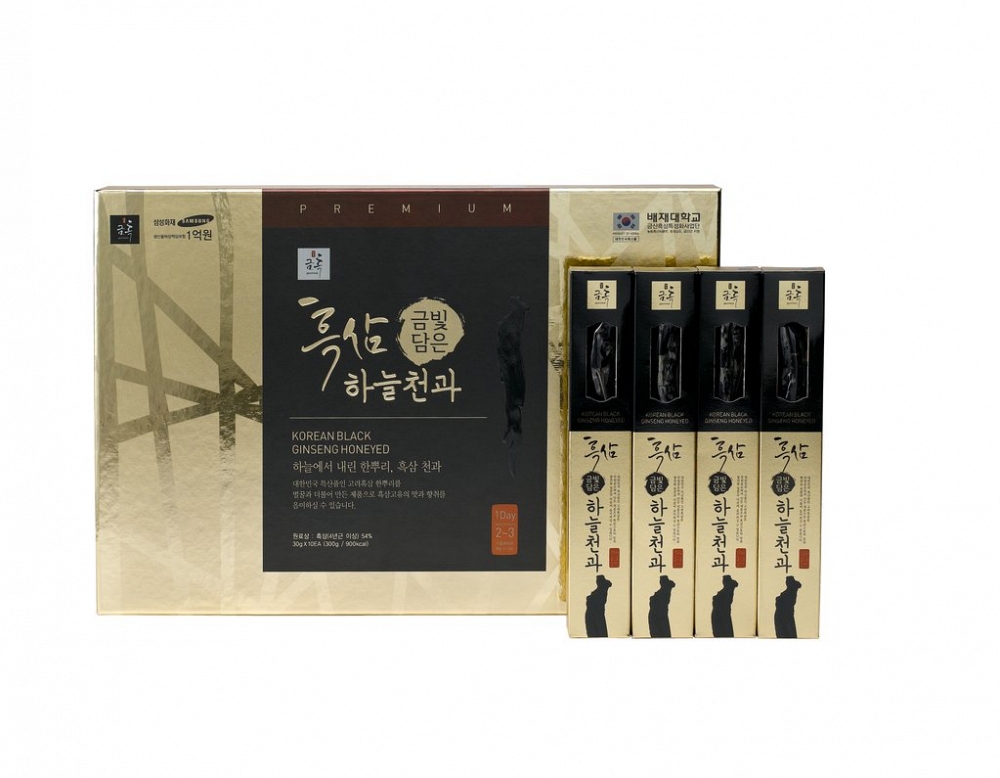 GeumHeuk Korean Black Ginseng Honeyed Whole Root

Premium Quality Whole Root: Made of Premium Korean Black Ginseng. Its package allows being easily carried in your pocket or bag. To savor the full taste and flavor of this honeyed Black Ginseng, please 1/2 root per serving, it may also be consumed as a tea by adding a few slices to a cup of hot water.

Black Ginseng: Made of 'goojeunggoopo' which steams and dries ginseng nine times. While being steamed and dried repeatedly, the red color of the ginseng has gradually become black, to form the black ginseng. During the process of steaming and drying, ginsenosides' contents (active ingredients) increase ginseng turns black.

*********************
GeumHeuk Sâm đen nguyên củ Hàn Quốc



Nhân sâm đen: Được làm bằng 'goojeunggoopo', hấp và làm khô nhân sâm chín lần. Khi được hấp và sấy nhiều lần, màu đỏ của củ sâm chuyển dần sang màu đen, tạo thành hắc sâm. Trong quá trình hấp và sấy khô, hàm lượng ginsenosides (hoạt chất) làm tăng nhân sâm chuyển sang màu đen.
Công dụng:
Tăng cường hay phục hồi sức khỏe, giảm stress, làm tinh thần, đầu óc tỉnh táo, giúp làm việc hiệu quả, dẻo dai. Nhất là những người làm việc bên máy vi tính nhiều, người làm việc nặng, người mới ốm dậy, không ăn uống được…

Với người già: giảm đi tiểu đêm, tăng thính lực, thị lực, tăng trí nhớ, giúp đầu óc minh mẫn.

Tăng cường miễn dịch, tăng cường sức đề kháng và sinh lực cho cơ thể.

Tăng cường chức năng gan, thận, tiền liệt tuyến

Chống lão hóa, điều hòa quá trình trao đổi chất, giải độc tốt.
Đối tượng sử dụng:
Phù hợp cho mọi lứa tuổi và giới tính.

Khuyên dùng cho những người trong thời gian hỗ trợ điều trị bệnh và sau khi ốm dậy, những người có thể trạng yếu.

Đặc biệt dành cho những người có hệ miễn dịch, sức khỏe và thể chất yếu.

Mệt mỏi, căng thẳng do làm việc quá sức hoặc chế độ ăn uống, ngủ nghỉ thất thường không ổn định.

Luôn cảm thấy mệt mỏi, thiếu sức sống thể chất