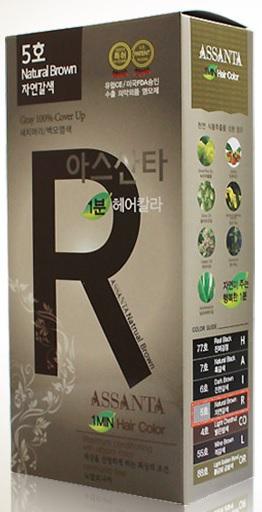 Assanta Hair Color

Enriched with keratin, ceramide, natural ingredients (Green Tea Extract, Jojoba, Olive Oil, Aloe Vera Gel, Acorus Calamus Root Extract) and with no ammonia, it nourishes hair fibers deep within and keeps hair healthy. The hair dye is natural, non-toxic, with a mild formula that does not irritate the scalp. The product dyes only your hair. It does not stain the scalp.

The unique formula makes hair coloring simple and fast. You can easily color your hair by yourself. It takes just 1 minute from application to development. After 1 minute, shampoo and rinse your hair. You will see all the grey hair covered. The whole process of hair dyeing takes only about 5 - 10 minutes.

Assanta hair color cream leaves your hair in great condition, fuller, smooth and shiny. The hair color looks natural. Perfect shades flatter your skin for an all-over beautiful look. The innovative and patented 'Colorant Penetration Enhancement Mechanism' provides 100% grey coverage, which lasts up to six weeks.

********************

THUỐC NHUỘM TÓC THẢO DƯỢC ASSANTA

Thành phần tự nhiên (Chiết xuất trà xanh, Jojoba, Dầu ô liu, Gel lô hội, Chiết xuất rễ cây Acorus Calamus) và không chứa amoniac, nuôi dưỡng sợi tóc sâu bên trong và giữ cho tóc khỏe mạnh. Thuốc nhuộm tóc có thành phần tự nhiên, không độc hại, với công thức dịu nhẹ không gây kích ứng da đầu.

Công thức độc đáo giúp việc nhuộm tóc trở nên đơn giản và nhanh chóng. Bạn có thể dễ dàng tự nhuộm màu cho mái tóc của mình. Chỉ mất 1 phút tóc lên màu. Sau 1 phút, gội đầu và xả sạch tóc. Bạn sẽ thấy tất cả những sợi tóc bạc được bao phủ. Toàn bộ quá trình nhuộm tóc chỉ mất khoảng 5 - 10 phút.

Kem tạo màu tóc Assanta giúp tóc bạn luôn trong tình trạng tuyệt vời, đầy đặn, mềm mượt và sáng bóng. Màu tóc trông tự nhiên. 'Cơ chế tăng cường thẩm thấu chất tạo màu' sáng tạo và được cấp bằng sáng chế cung cấp độ che phủ màu xám 100%, kéo dài đến sáu tuần.