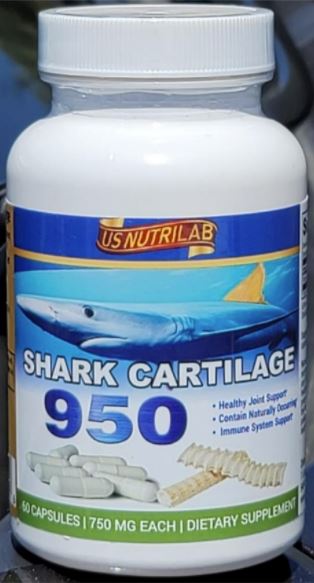 SHARK CARTILAGE

Shark Cartilage is a dietary supplement made from pure freeze dried and powdered cartilage of shark. Shark Cartilage is a natural source of Chondroitin Sulfate, which is a key structural component in human cartilage providing natural joint support. Sharks are said to be the healthiest creatures on Earth. Its Cartilage is composed of Calcium, Proteins, Collagen & Sulfur. Its Cartilage is even believed to have cancer fighting qualities. Shark Cartilage has certain substances that inhibit the growth of new blood cells that nurture and encourage growth, thus cutting the blood flow to cancerous tumors and resulting in shrinkage. It also has been recommended for reducing inflammation and pain in the joints. Additionally, shark cartilage is rich in proteins and calcium, therefore it is regularly consumed as a dietary supplement to boost immunity.

Ingredients: 750mg Shark Cartilage, Vegetable Cellulose, Silicon Dioxide, Magnesium Stearate.

Uses:
**************************************************************************************
SỤN CÁ MẬP 950

Sụn cá mập chứa chất chondroitin sulfat, là nguyên liệu chủ yếu trong quá trình tái tạo mô sụn và xương. Chất này cũng có tác dụng ức chế enzym elastase (chất men này là chất trung gian gây thoái hóa sụn khớp). Kích thích quá trình tổng hợp các proteoglycan (là một glycoprotein có tỷ lệ glucid rất cao) nên được chỉ định dùng bổ trợ trong các chứng hư và thoái hóa khớp, làm giảm hình thành các gốc oxy tự do trong mô sụn.
Thành phần: Mỗi viên nang chứa bột sụn cá mập 750mg, là thực phẩm chức năng chứa thành phần ăn kiêng.
Công dụng:
Giảm đau cho xương khớp và cứng khớp, phục hồi và duy trì cơ, xương và các đầu khớp.

Tăng cường hệ miễn dịch.

Ngăn ngừa bệnh ung thư: Sụn cá mập ức chế được hoạt chất angiogenesis.

Phòng và chữa các bệnh về mắt: chondroitin sulfat có tác dụng tạo độ nhớt thích hợp và bồi bổ nội mô giác mạc, nuôi dưỡng các tế bào giác mạc mắt, tái tạo lớp phím nước mắt trước giác mạc chống tình trạng khô mắt.
Đối tượng sử dụng:
Người lớn tuổi bị bệnh về xương khớp, viêm khớp

Lao động nặng, khớp bị tổn thương

Thường xuyên đau nhức khớp, vận động khó khăn