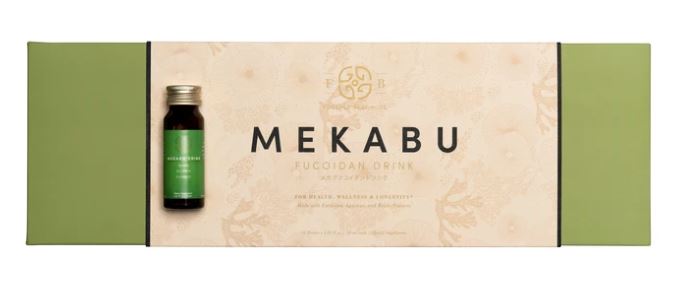 This exclusive formula comprised of pure Riken Mekabu fucoidan and an abundance of healthy vitamins assists in strengthening the immune system by boosting action against viruses. The month-long program can be used consistently to maintain immune function, occasionally as a booster, or to fortify immune function before or during medical treatments.
Includes highest concentration of fucoidan of any dietary supplement available

Boosts immune system function*

Helps chemotherapy treatments to be more effective at lower doses*

Increases longevity and life expectancy*

Ideal for mature individuals or those undergoing medical procedures*
Key Ingredients: Isomalt Oligosaccharide, Sporophyll Extract (Fucoidan), Erythritol, Indigestible Dextrin, Agaricus Fruit Body Extract Powder, Raishi Extract Powder, Vitamin C, Citric Acid, Vitamin E, Sodium Benzoate, Vitamin B1, B2, B3, B6, Water.

*********************************
Mekabu Fucoidan công thức với Fucoidan, nấm agaricus, nấm lingzhi.
Tại Nhật Bản, chiết xuất của nấm agaricus được phê duyệt là phụ gia thực phẩm. Nó cũng được tiêu thụ như thực phẩm và trà.
Nấm agaricus tăng cường hệ thống miễn dịch đồng thời ngăn ngừa ung thư, tiểu đường loại 2, cholesterol cao và xơ cứng động mạch