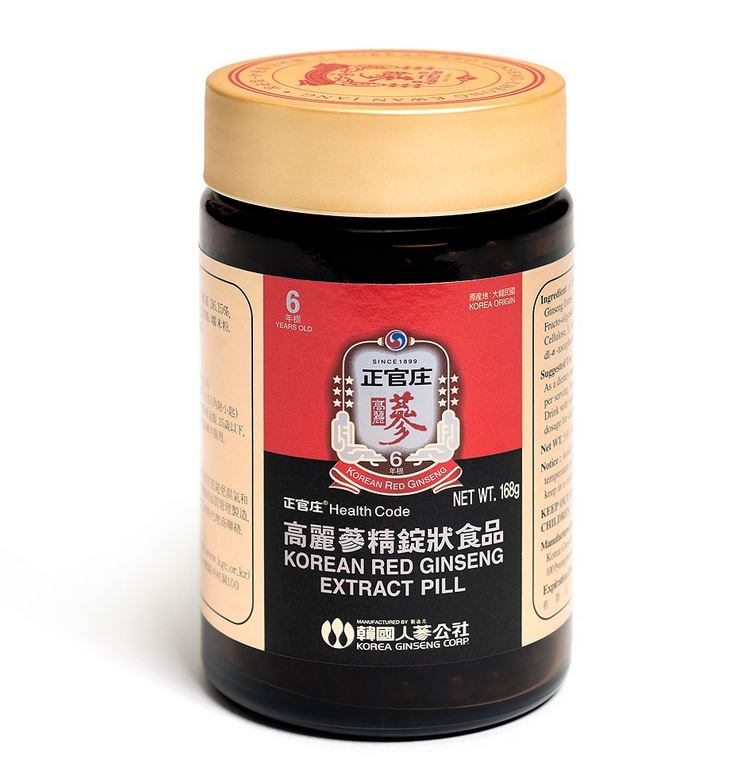 Korean red ginseng Extract Pills 168g (~ 800 pills)
This pill product is made of concentrated six-years-grown Korean red ginseng extract and binders to form an easy-to-carry pill.
Description
STIMULANT-FREE ENERGY - While energy drinks or caffeine pills often lead to the jitters or headaches, KGC red ginseng releases a steady burst of energy to help you naturally increase productivity, stay energized and focused and get things done without unwanted side effects.

NO AFTER TASTE - Many people understand the benefits of ginseng, but just cant handle the bitterness of it in a drink or liquid form. With our capsules, you can have the same effect of the supplement, just without the bitter aftertaste!

SUPERFOOD BENEFITS - Many do not realize the benefits of Ginseng Root for both Men and Women: Boosts the immune system, energy and stamina, fights fatigue, promotes healthy blood circulation, supports memory function, eases stress, supports libido and sexual health.

GLUTEN FREE & NON-GMO - Scientifically formulated Cheong Kwan Jang Korean Ginseng is 100% natural, vegan friendly, non GMO, gluten-free, and comes in easy to swallow vegetable capsules for your convenience. You wont find unnecessary fillers, preservatives, binders, or harmful chemicals in our supplements, assuring you no unwanted side effects.
Hồng sâm Hàn Quốc dạng viên lọ 168g được chiết xuất từ nhân sâm của Hàn Quốc 6 năm tuổi. Tác dụng bổi bổ khỏe, tăng cường thể lực, tăng sức đề kháng của cơ thể, tăng cường chức chăng sinh lý ở nam và nữ