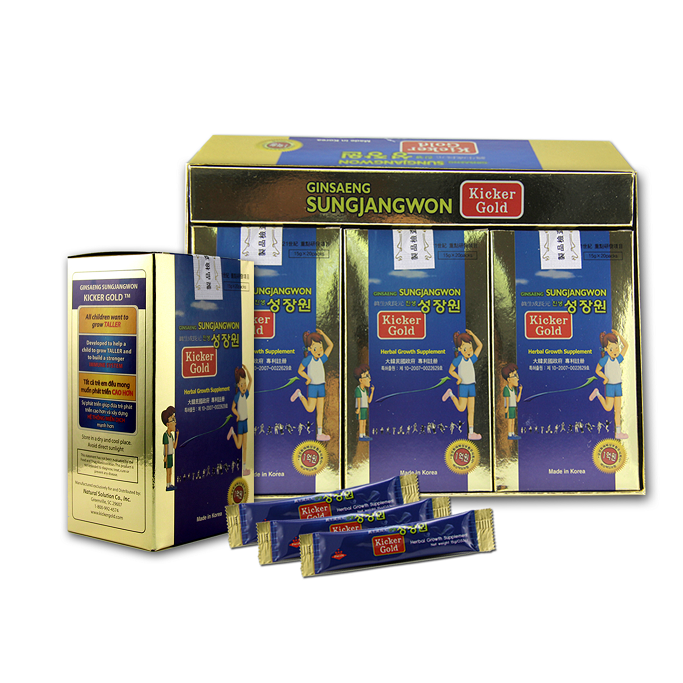 Description

How does it work?
Its patented all natural herbal formula stimulates any growing person's growth plate.

What is Growth Plate?
The growth plate is the area of growing tissue at each end of the long bones. The plate is found in children and adolescents. The growth plate determines the future length and shape of the mature bone.

How does Growth plate relate a person's growth?
Growth plate (growing tissue) adds new bone to long bones thus bones grow longer and ultimately a person become taller

​How does Kicker Gold make bone grow?
Lab test and Clinical test result shows GSW extract TM promotes cell multiplication, increases longitudinal bone growth, bone weight and secretion of IGF-1 ( Insulin-Like growth Factor )

****************************************

Kicker Gold được chiết xuất hoàn toàn từ THẢO DƯỢC. (Sâm Siberia, đậu nành lên men, dâu tây, mật ong, siro ngô, cao hạt nho,… các vitamin và khoáng chất)
Kicker Gold không gây tác dụng phụ.
Kicker Gold tác động vào tuyến yên, kích thích sản sinh hormone tăng trưởng, và giúp phát triển chiều cao.
Sản phẩm tăng chiều cao cho trẻ em số 1 Hàn Quốc (Là công trình nghiên cứu được chính phủ Hàn Quốc bảo trợ và giám sát)

Công ty Pagin Biotech tại Hàn Quốc đã cho ra đời sản phẩm Kicker Gold với thành phần chủ yếu hoàn toàn từ các thảo dược và cao tổng hợp GSW, giúp kích thích các hormone tăng trưởng (GH) từ tuyến yên một cách tối đa, phát triển xương tối ưu về chiều dọc và tăng khả năng miễn dịch cho cơ thể, cung cấp năng lượng giúp trẻ cao lớn và phòng tránh được bệnh tật, kích thích hệ tiêu hóa và tăng khả năng hấp thụ các chất dinh dưỡng, rất an toàn và không có tác dụng phụ.