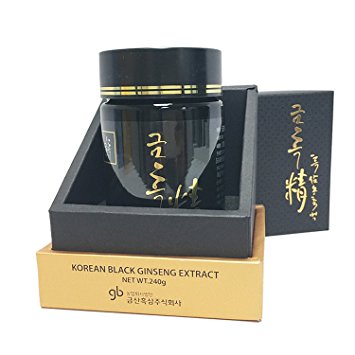 ✔ Enhances the Immune System
✔ Mental Performance Improvement
✔ Support Blood Circulation
✔ Antioxidant properties
✔ Boost Stamina
✔ Fatigue & Stress Relieves
✔Energy Booster

* Extract: The most popular form of Ginseng supplement in Korea. Either mix in a water or take as it is. Due to high potency level (80mg/g), we recommend starting with half serving size. One bottle will last approximate 2 months.
* 100% Korean Panax Ginseng: Contains 100% pure, highly-concentrated black ginseng without a single additive and made in the optimum conditions using the low-temperature method to create a high-quality extract.
* Black Ginseng: Made of 'goojeunggoopo' which steams and dries ginseng nine times. While being steamed and dried repeatedly, The red color of the ginseng has gradually become black, to form the black ginseng. During the process of steaming and drying, ginsenosides contents (active ingredients) increases as ginseng turn to black. Also, black ginseng has better absorption rate than red ginseng and recommend to people who have no effect with red ginseng.
* GeumSan Ginseng : It has been proven by gov't affiliated PH,D that GEUMSAN has grown ginseng value highest and has MOST ginseng SAPONIN (Ginsenoside contents). Due to GeumSan's optimal climate and land, ginseng is grown in GeumSan known to be the BEST!