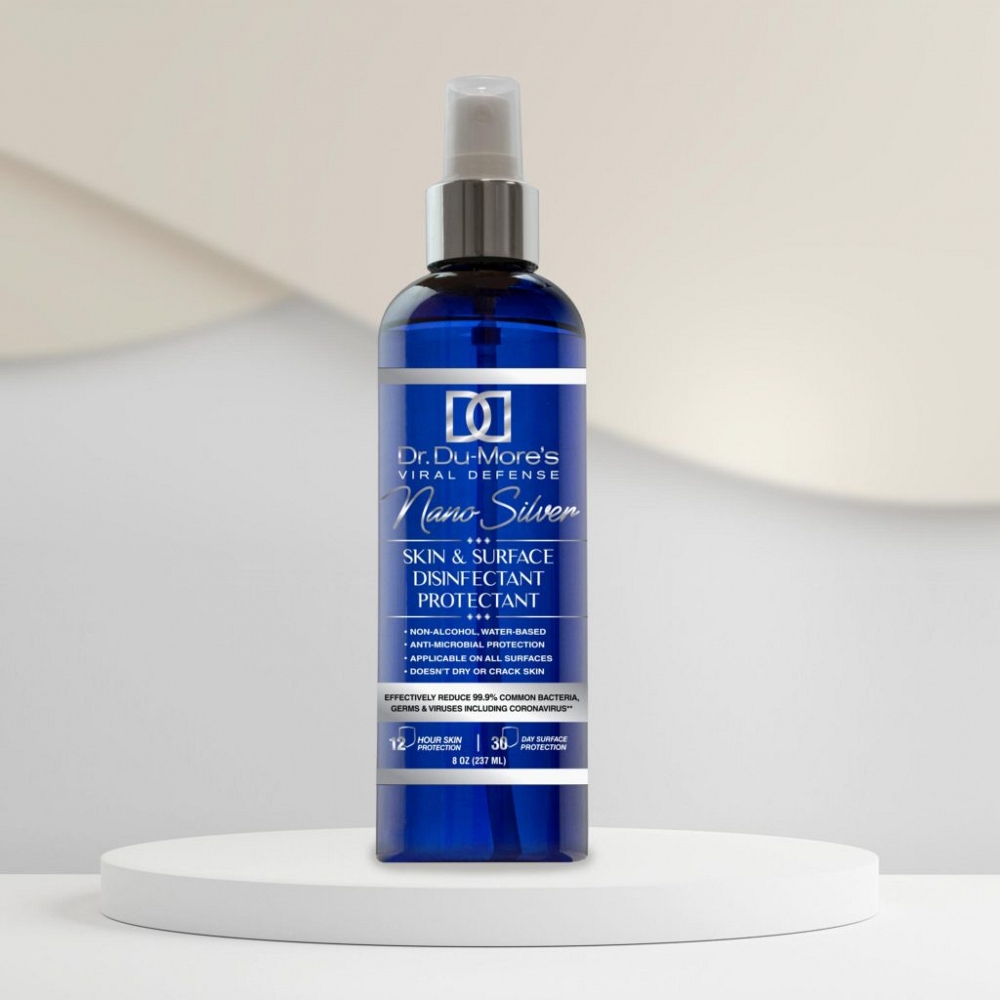 Dr. Du-More's Viral Defense Skin and Surface Dis/Pro - 8oz (237ml) (BUY 1 GET 1 FREE)
Summary : Made in USA
ADD TO CART
BUY THIS PRODUCT
DR. DU-MORES VIRAL DEFENSE NANO SILVER SKIN DISINFECTANT AND PROTECTANT PRODUCT LABELING INFORMATION

The product labeling information includes all published material associated to a drug. Product labeling documents include information like generic names, active ingredients, ingredient strength dosage, routes of administration, appearance, usage, warnings, inactive ingredients, etc.

ACTIVE INGREDIENT
Benzalkonium Chloride 0.13%, Structured water, nano colloidal silver, sodium sesquicarbonate, magnesium.

PURPOSE
Antimicrobial

USES:
Sanitizes and protects skin and surfaces to help reduce viruses and bacteria that cause disease.

WARNINGS:
For external use only. Do not use in eyes. If contact occurs, flush thoroughly with water. Stop use and ask a doctor: If irritation or redness develops, or if condition persist for more than 72 hours.

OTC - KEEP OUT OF REACH OF CHILDREN
Keep out of reach of children: If swallowed, get medical help or contact a Poison Control Center.
*******************************************************
DR. DU-MORES VIRAL DEFENSE NANO SILVER SKIN
Thuốc khử trùng và bảo vệ da Viral Defense Nano Silver của Tiến sĩ Du-mores

THÀNH PHẦN HOẠT CHẤT
Benzalkonium clorua 0,13%, Nước, keo bạc nano, natri sesquicacbonat, magie.

MỤC ĐÍCH
Kháng khuẩn

CÔNG DỤNG:
Vệ sinh và bảo vệ da, bề mặt giúp giảm thiểu vi rút và vi khuẩn gây bệnh.

CẢNH BÁO:
Chỉ sử dụng ngoài da, không dùng cho mắt. Nếu xảy ra tiếp xúc, rửa kỹ bằng nước.
Ngừng sử dụng và hỏi bác sĩ: Nếu bị kích ứng hoặc mẩn đỏ, hoặc nếu tình trạng kéo dài hơn 72 giờ.

OTC - ĐỂ TRẺ EM NGOÀI TẦM TAY
Để xa tầm tay trẻ em: Nếu nuốt phải, hãy tìm trợ giúp y tế hoặc liên hệ với Trung tâm Kiểm soát Chất độc

 ƯU ĐIỂM:
1. KHÔNG CÓ ALCOHOL – DÙNG WATER BASE NÊN KHÔNG BỊ KHÔ DA,
KHÔNG NHỚT VÌ KHÔNG CÓ ALOE VERA.

2. NANO SILVER: là những tinh thể nhỏ nano silver có tác dụng tráng lên
bề mặt và diệt virus đến 99.99%..

3. NANO SILVER: CÓ THỂ TỒN TẠI TRÊN DA 12 HOURS, NẾU RỬA TAY QUÁ
NHIỀU THÌ NÊN APPLY LẠI. TRÊN CÁC VẬT DỤNG (NẾU KHÔNG CÓ SỰ
TÁC ĐỘNG) LÀ 1 MONTH. Nên xịt lên những vật dụng thường xuyên
trong nhà như nắm cửa, bàn, đồ mua từ chợ về….xịt vào tay Những
sanitizer dùng alcohol bình thường chỉ có tác dụng diệt khuẩn ngay lúc
xài. Sau đó alcohol sẽ bốc hơi và không còn tác dụng diệt khuẩn nữa.
đây cũng là sai lầm của nhiều người khi sử dụng và nghĩ là mình đã
được bảo vệ

4. SILVER KHÔNG CÓ HẠI CHO SỨC KHỎE KHI SỬ DỤNG LÂU DÀI. Thời xưa
vua chúa dung Silver để tráng lên muỗng đũa , chén để phòng khi bị ngộ
độc.

5. ĐÃ ĐƯỢC FDA HÒA KỲ KIỂM DUYỆT NGHIÊM NGẶT, PASS TẤT CẢ TEST
CỦA FDA.

6. ĐƯỢC BÁN PHÂN PHỐI RỘNG RÃI TRÊN CÁC HỆ THỐNG CHỢ LỚN CỦA
MỸ NHƯ WALMART, WALLGREEN, CVS…