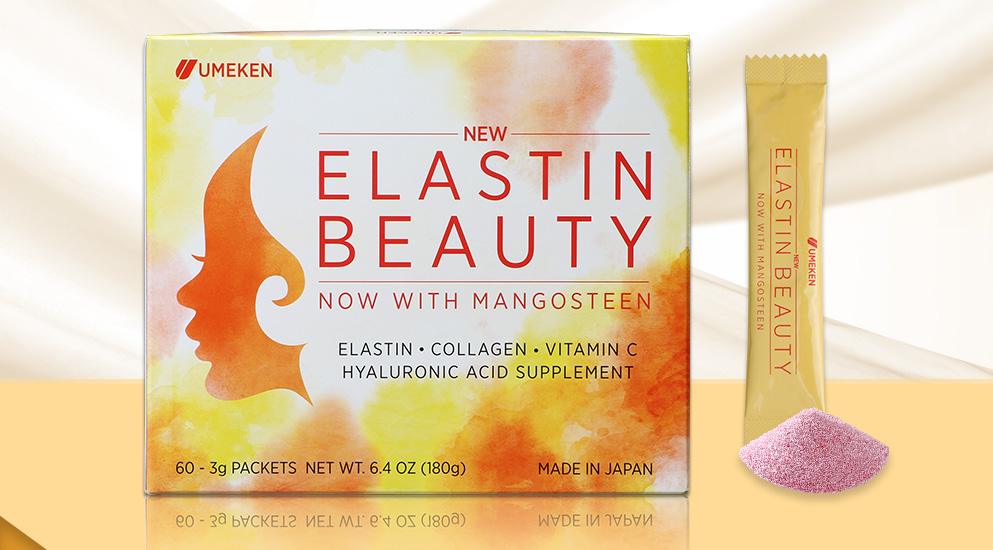 (New) Elastin Beauty / 1 mth supply (60 packets) - 180g
Summary : Net WT. 6.4 oz (180g) 60-3G Packets, Made in Japan
ADD TO CART
BUY THIS PRODUCT
Description:

Umeken Elastin Beauty is a unique beauty and health product packed with five anti-aging skincare ingredients elastin, hyaluronic acid, fish collagen, vitamin C, and mangosteen. These ingredients have proven to be effective against wrinkles and fine lines by boosting the elasticity and moisture levels in our skin. Ingested rather than applied topically, Elastin Beauty makes it easier to support your skin health and appearance by combining the benefits of premium skincare products into one powerful packet. A truly exceptional product, Elastin Beauty will help you to enjoy beautiful, smooth, healthy skin.
*For quality maintenance, please store in a cool, dry place while avoiding direct sunlight.
• Elastin: Supplies nutrients to the skin from the inside; raises the elasticity and flexibility of skin
• Collagen: Exhibits excellent effects by using high-quality fish collagen which is highly absorptive
• Hyaluronic Acid: Called a "moisture tank", this highly pure acid makes it so the skin can hold more water.
• Vitamin C: Purified high-unit Vitamin C helps in activating the skin and preventing wrinkles.
• Mangosteen: Antioxidants and anti - anging.